I'll Fly Away: Further Testimonies from the Women of York Prison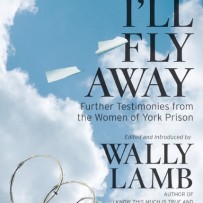 In 2003 Wally Lamb–the author of two of the most beloved novels of our time, She's Come Undone and I Know This Much Is True–published Couldn't Keep It to Myself, a collection of essays by the students in his writing workshop at the maximum-security York Correctional Institution, Connecticut's only prison for women. Writing, Lamb discovered, was a way for these women to confront painful memories, face their fears and their failures, and begin to imagine better lives. The New York Times described the book as Gut-tearing tales . . . the unvarnished truth. The Los Angeles Times said of it, Lying next to and rising out of despair, hope permeates this book.
Now Lamb returns with I'll Fly Away, a new volume of intimate, searching pieces from the York workshop. Here, twenty women–eighteen inmates and two of Lamb's cofacilitators–share the experiences that shaped them from childhood and that haunt and inspire them to this day. These portraits, vignettes, and stories depict with soul-baring honesty how and why women land in prison–and what happens once they get there. The stories are as varied as the individuals who wrote them, but each testifies to the same core truth: the universal value of knowing oneself and changing one's life through the power of the written word.