I Know This Much Is True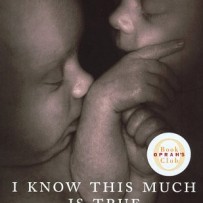 I Know This Much Is True is a novel by Wally Lamb, published in 1998. It was featured in Oprah's Book Club in June 1998.
The novel takes place in Three Rivers, Connecticut. Dominick Birdsey's identical twin, Thomas, suffers from paranoid schizophrenia. With medication, he can function properly and work at a coffee stand, but occasionally he has severe episodes of his illness. Thinking he is making a sacrificial protest that will stop the war in the Middle East, Thomas cuts off his own hand in a public library. Dominick sees him through the ensuing decision not to attempt to reattach the hand, and makes efforts on his behalf to free him from what he knows to be an inadequate and depressing hospital for the dangerous mentally ill.